2019 San Diego Comic-Con Artwork
Each year, we are amazed by the incredible pieces of BioWare-inspired artwork from artists in our community. In the spirit of sharing beautiful artwork with the world right now, here are a few pieces that were created last summer on the show floor of 2019 San Diego Comic-Con. BioWare was excited to participate in the fun at the Dark Horse booth and, with San Diego Comic-Con being a creative hub, we were especially excited to feature five amazing artists who created original works based on characters in Dragon Age, Mass Effect, and Anthem. As the artists created, booth visitors could watch the works in progress and chat with the artists in person. It was fascinating and educational to get the artists' thoughts and perspectives as they brought characters and stories to life throughout the weekend.
Thanks to the incredible talent of the artists and on behalf of this artwork, a $10,000 donation was made to the Canadian Red Cross' Australia Wildfire Relief Fund in early February, 2020! These unique and beautiful pieces are now a wonderful addition to BioWare Edmonton's new downtown office space.
Benjamin Dewey (Twitter: @benjamindewey – Instagram: @benjamindewey)
The BioWare Universe (Anthem/Dragon Age/Mass Effect)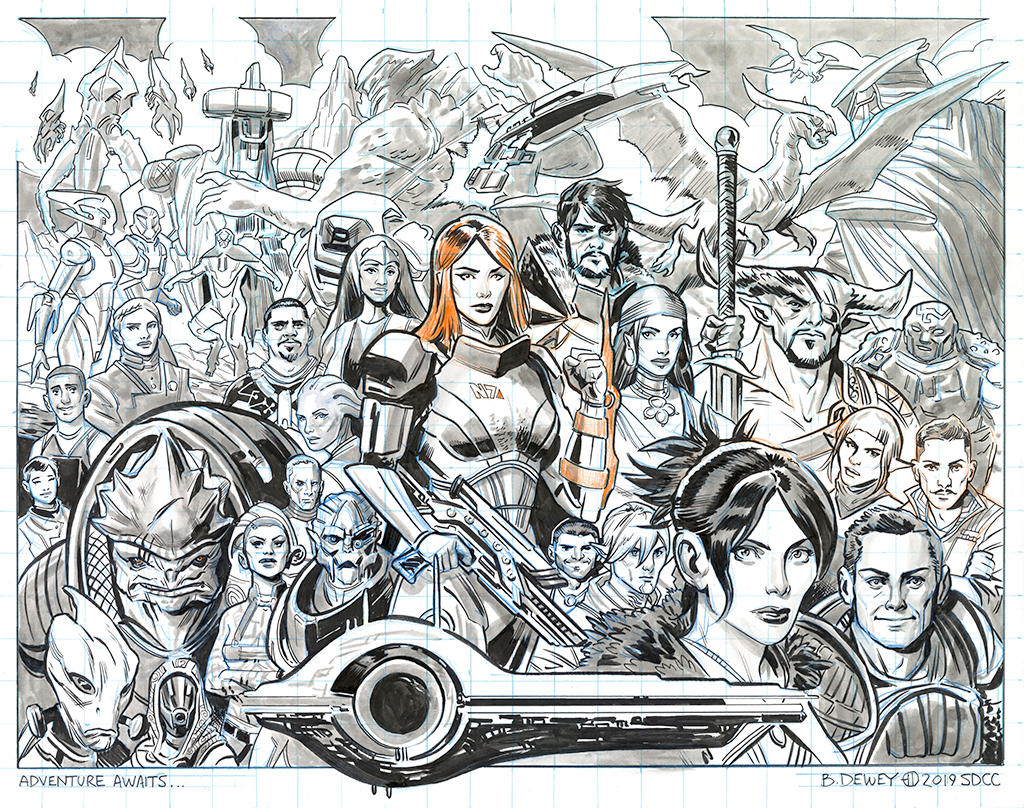 About the piece: "This piece was done on paper, and I wanted to see if I could draw all the main characters from three different universes in a single day in a single image. It was challenging and fun to do, and I'm a fan of the games so it was cool to revisit some of my old favorites. I just brought my own pens and pencils from home and used an approach that is really similar to how I draw comics." – Benjamin Dewey
---
Cat Farris (Twitter: @cattifer – Instagram: @cattifer)
A Night on the Town (Mass Effect)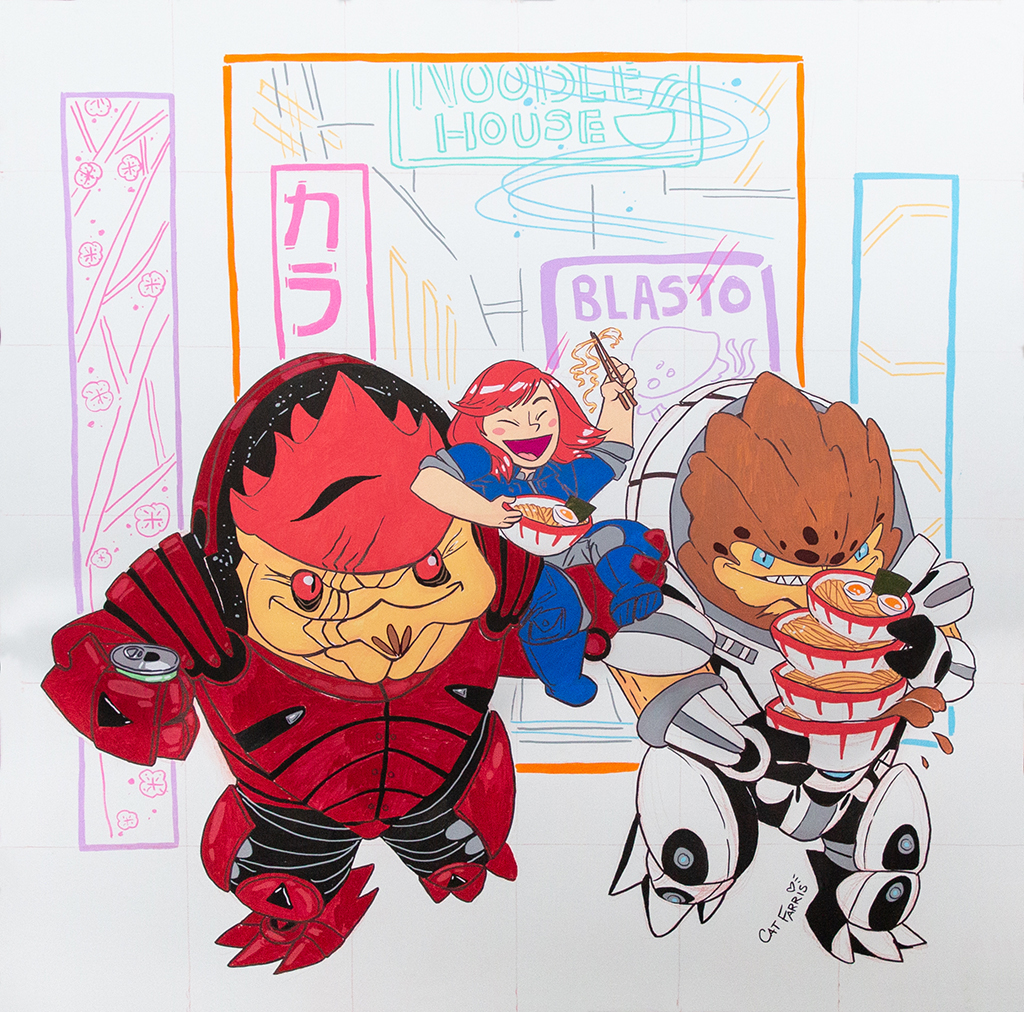 About the piece: "Wrex and Grunt are two of my most favorite characters in Mass Effect. I always imagined that Shepherd would definitely be out there, having wild nights out with her krogan buddies! This was also definitely inspired by the Grunt side story in the Citadel DLC." – Cat Farris
---
Todd Nauck (Twitter: @ToddNauck – Instagram: @toddnauck – Facebook: Art Of Todd Nauck)
Miranda Lawson character study (Mass Effect)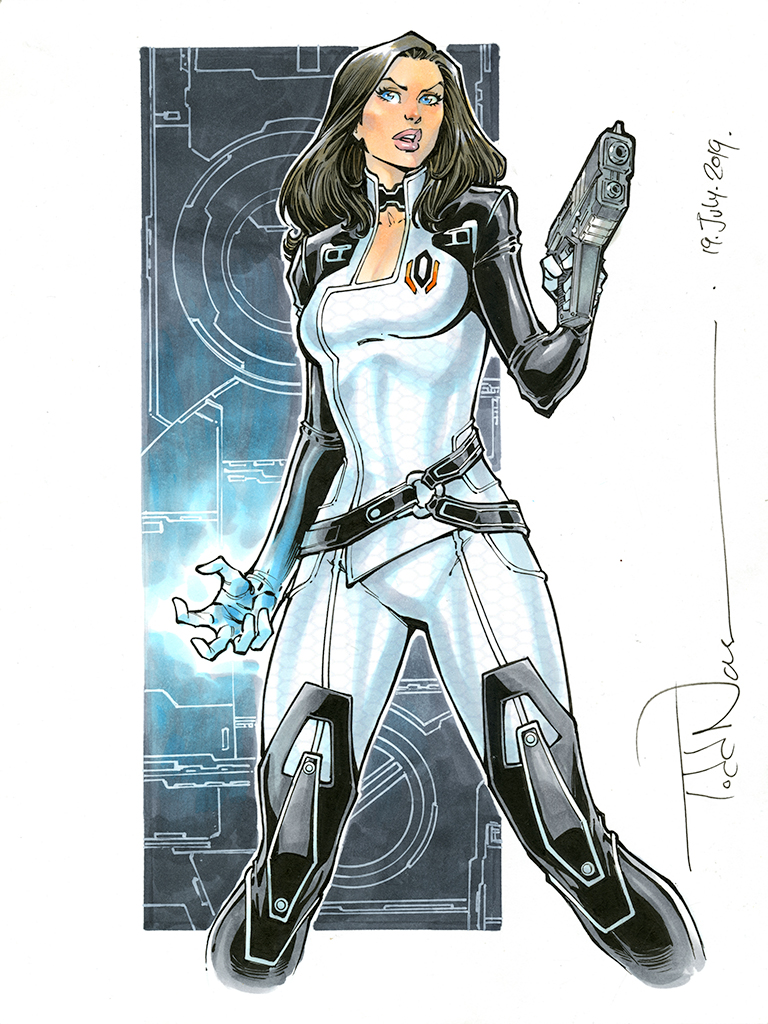 About the piece: "This piece, including her hexagonal pattern, was penciled digitally, then printed onto the art board in non-repro blue line and inked traditionally. It was then colored with Copic Sketch markers at San Diego Comic-Con." – Todd Nauck
---
Tony Parker (Twitter: @tonyparkerart – Instagram: @tonyparkerart1)
A Freelancer battles the elements in a ranger javelin suit (Anthem)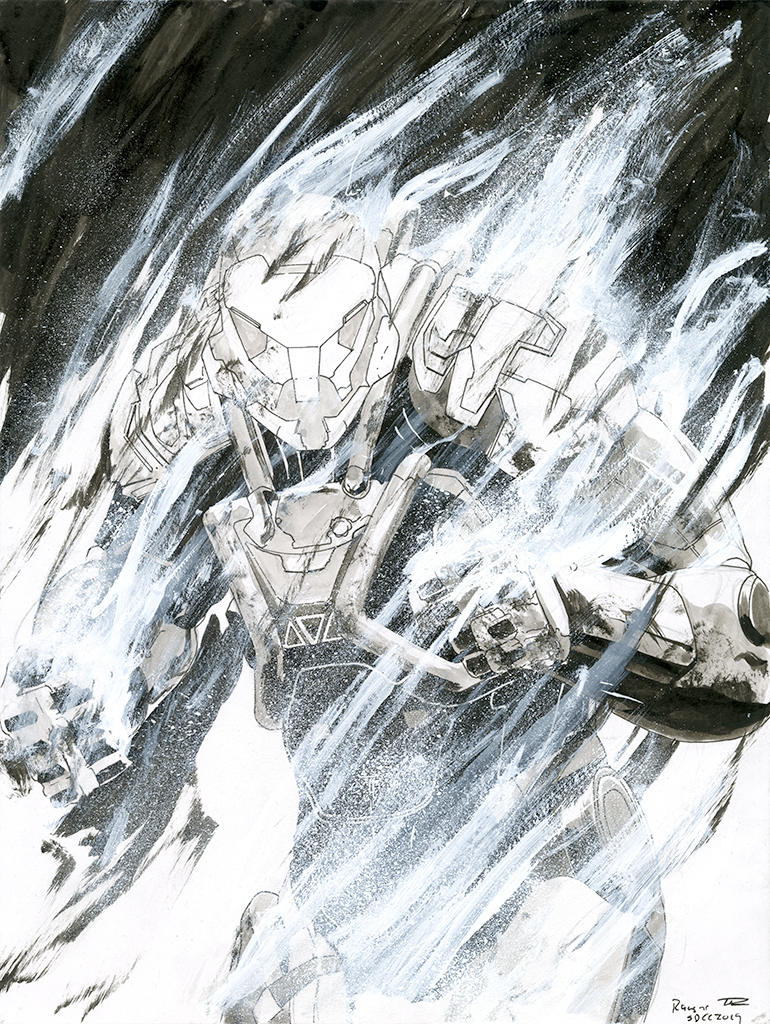 Morrigan unleashing magic (Dragon Age)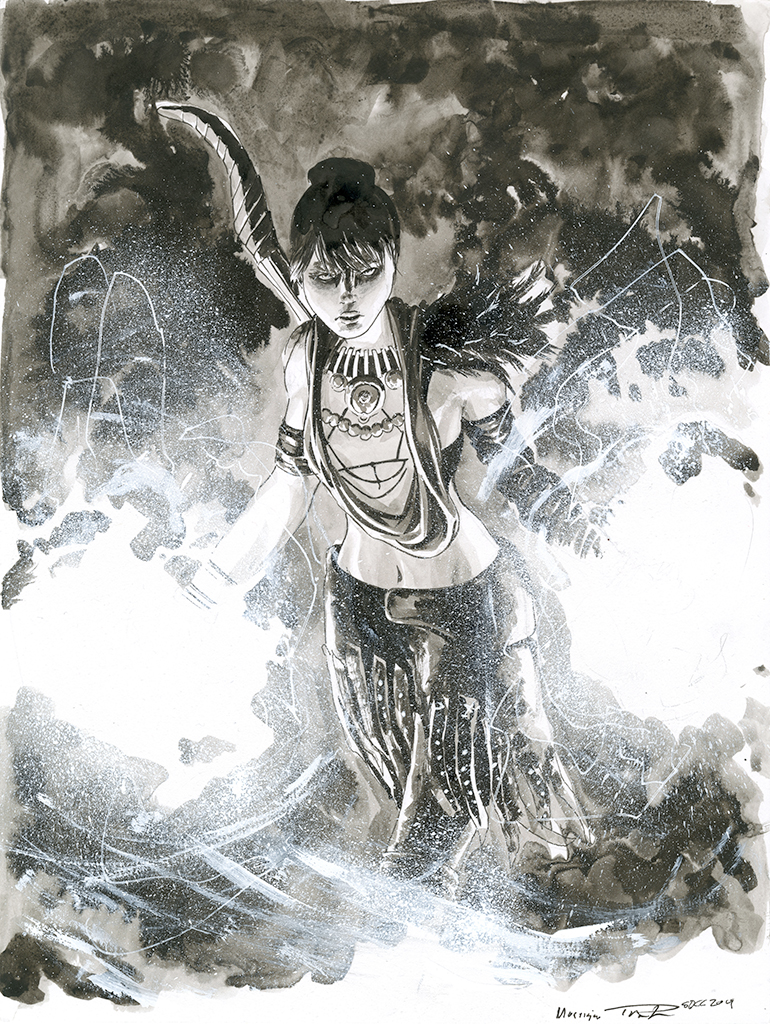 Wrex, ready for action (Mass Effect)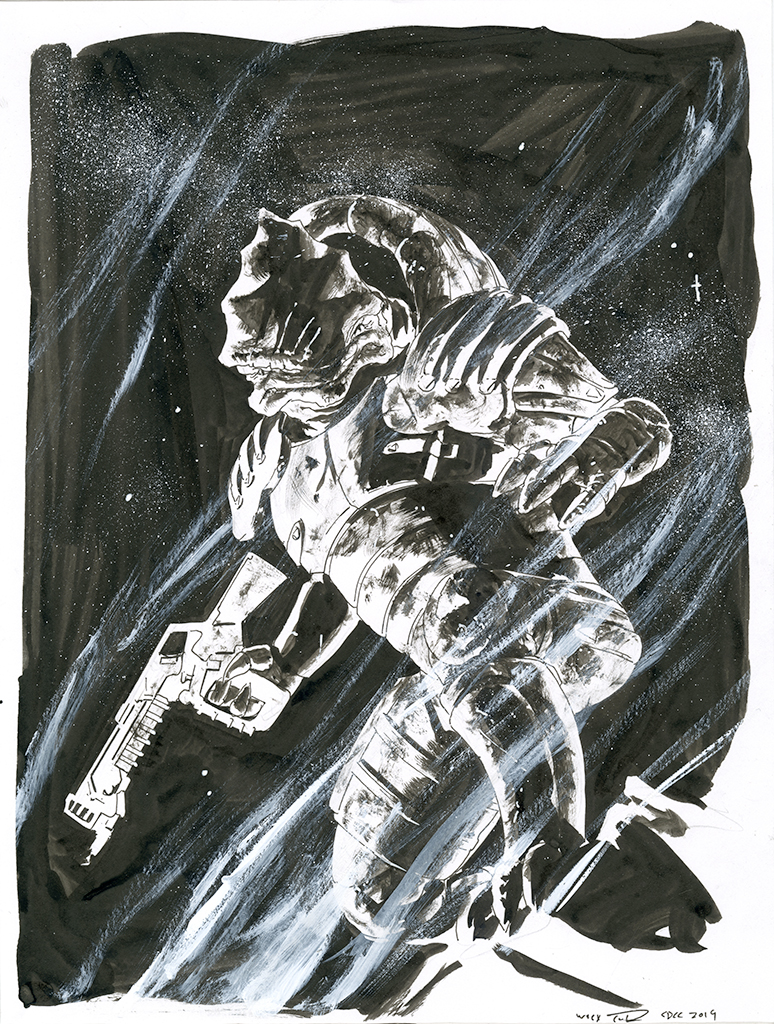 Tali, as her iconic suit might appear in Dragon Age (Dragon Age/Mass Effect)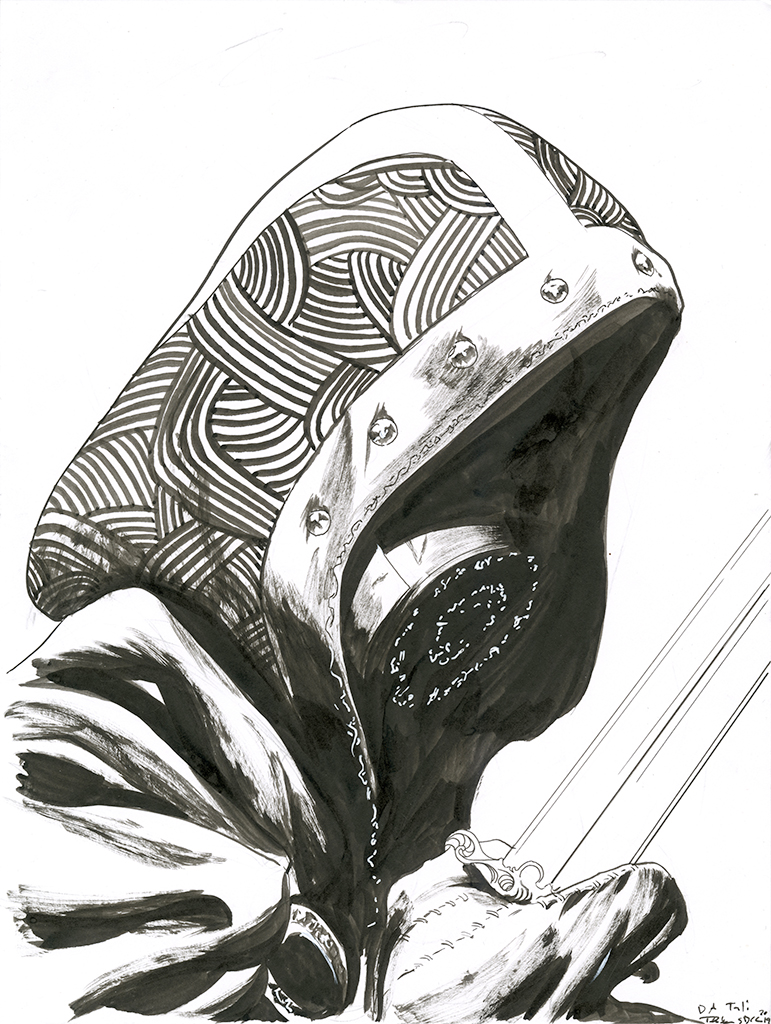 About the pieces: "I had the opportunity to live draw all of these characters, some of which for the very first time. Added to the challenge was that I only had about an hour to pencil, ink, and ink wash each 9″x12″ character drawing. All were initially drawn in pencil on 9″x12″ Bristol Board, inked with Copic Fineliner pens, toned with ink wash, then corrections, effects, and highlights with Deleter White Ink." – Tony Parker
---
Phillip Sevy (Twitter: @phillipsevy – Instagram: @phillipsevycomicart)
Trinity of Effect (Mass Effect)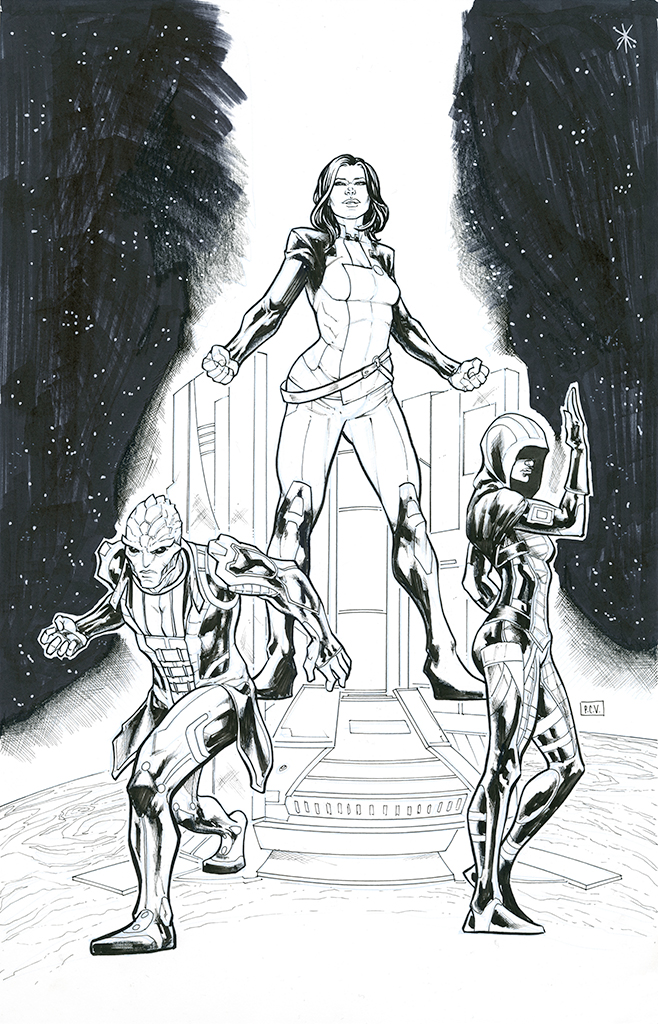 Chaos (Anthem/Dragon Age)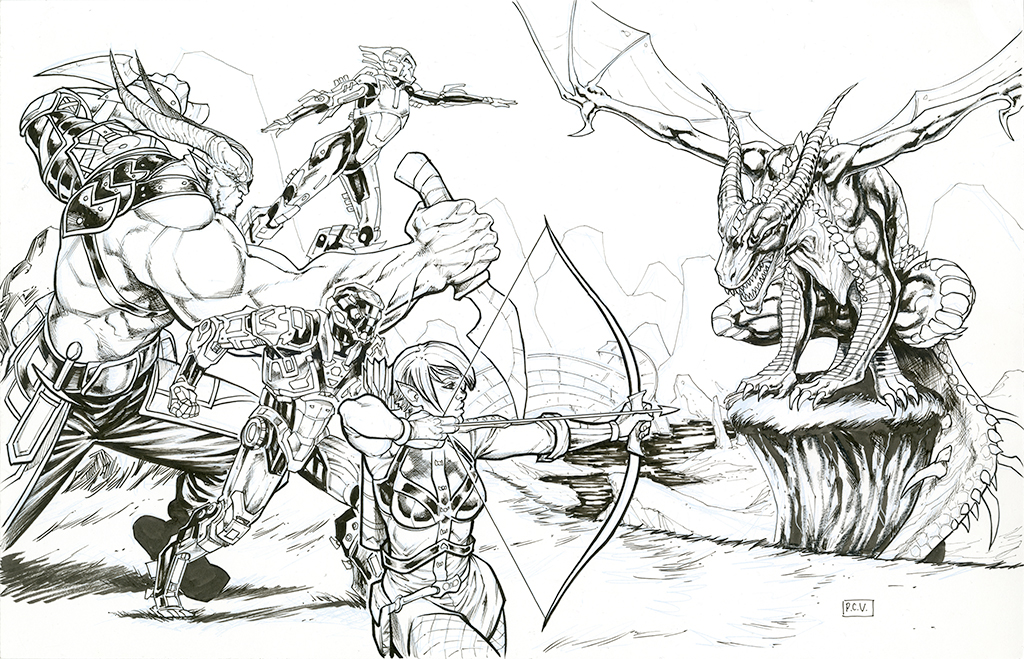 About the pieces: "I came to the Mass Effect universe through the amazing design work done by the concept team. Any chance to play with the incredible environment or character designs of this universe, I jump at it. The "Art of" books for these games are some of the best ever produced. They inspire me to do better. For the Anthem/Dragon Age piece, I got so immersed in the designs for these two games that I let my imagination get carried away. I had a piece that I spent days on even before I got to the convention. Getting it finished in the time allotted was a challenge, but I was happy with how it all came out!" – Phillip Sevy